The Rising Sun, Cons Club in Warminster and Mount Pleasant
Been a while since we put pen to virtual paper, so a few points of business to cover. 
But firstly, a competition. The winner will get a go in the band van and help us unload and load before and after any gig of your choosing. All you need to do is share on FB the best caption to what is going on here…..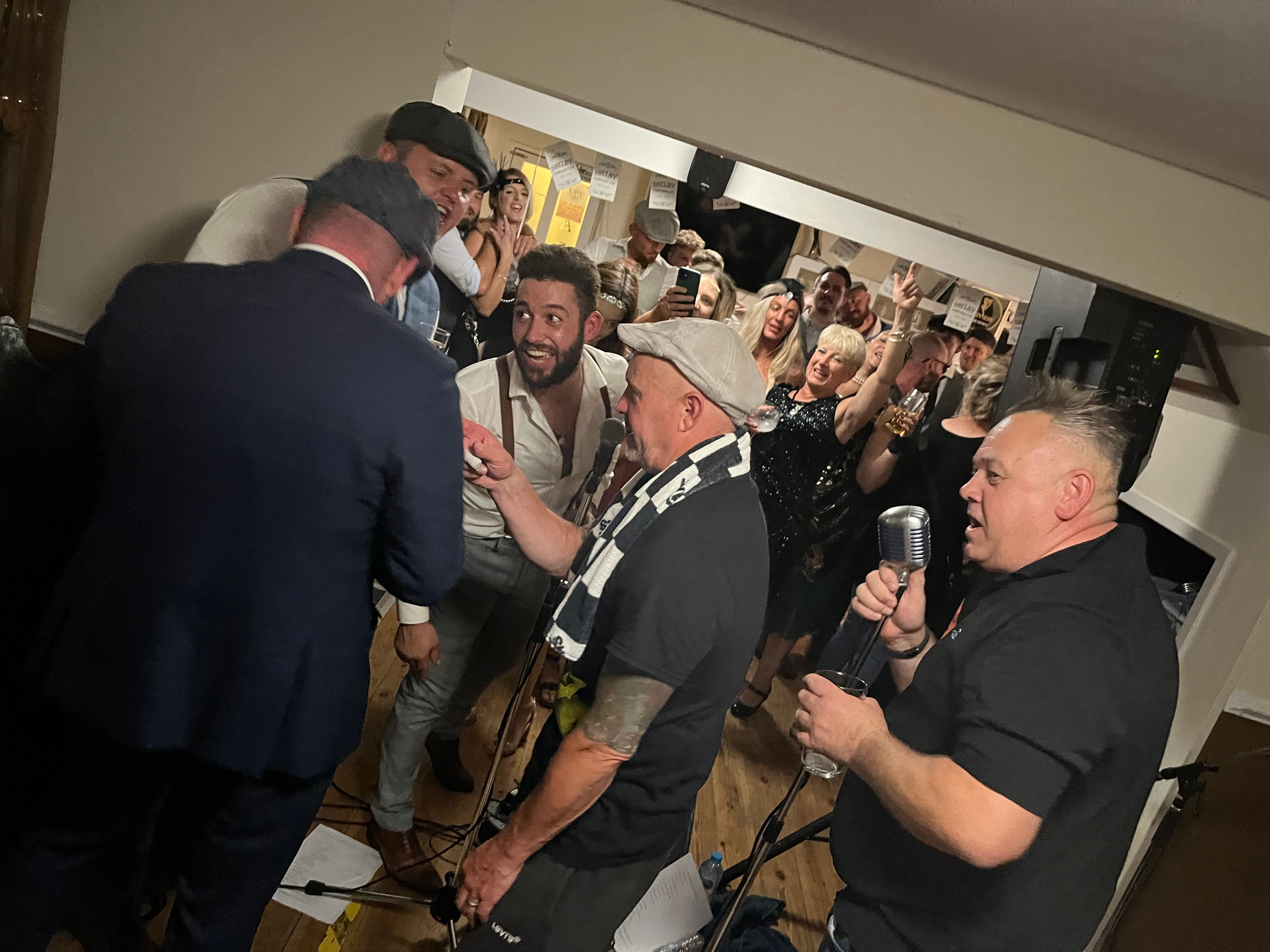 Full disclosure. We ain't got a clue either! But that sums up last night. 
It was all to celebrate the Shelby's of North Bradley, aka Dilly and Bod, and their postponed birthday party. It was a Peaky Blinder themed night and the throng certainly embraced the idea. The gents suitability very well attired and the women glamoursly capturing the 1920's  and without exception everyone  going full-on 'Arthur' in terms of on boarding wines and spirits in very generous measure. 
So, when The Peaky Blinders play to a room of Peaky Blinders its only going one way. Within a few songs, clothes were getting discarded (unfortunately male), the room was room jumping and dancing shoes were firmly on. Well, dancing shoes actually did fall off later in the night and despite pleas for help was told "put your own f***** shoes on sweetheart". (You had to be there.  It was if Polly was in the room.) 
Anyway – last night was a full on, full fat, banger. Thanks to Dilly and Bod for inviting us to play. 
In other news, earlier in the weekend, we dropped in to play at a fundraiser at the Cons Club in Westbury, no errrrr, I mean Warminster. A superb effort by Steve and the team down there raising 1000's for air ambulance and motor neurone disease charities. Curries, chilli's and the Peakies as a dessert. What is not to like. Oh and a raffle. 
Talking off raffles, Bri bought, not a ticket, not a strip but a whole book at the Mount Pleasant Social Club in Bradford on Avon at the end of April. What did he win did I hear you ask? Just the honour of playing to the fine people of this establishment and bugger all else. But we are happy with that.