The Duke, Bratton. 18th April 2022
Bit late to press with this important news update. The band apologises and we will keep it brief. 
So on Bank Holiday Monday the sun shone (as it did all Easter weekend, puts the GREAT into Great Britain doesn't it) and we popped down Bratton way to see the landlord of The Duke on his way into retirement overseas. 
We had planned a massive send off and schemed to do a full Glasto in the pub garden. However just like Spinal Tal and Stonehenge our pyramid stage replica was a little disappointing for all involved.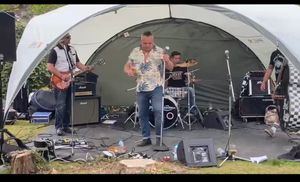 But we are pro's and could knock out a belter of a set with just 3 combs + paper accompanied by coconuts. This wasn't needed however as we had our tools of the trade, so we just caught a tan whilst playing sweet music to the sweet people of Bratton. It was a beautiful thing. 
Love to all, The PB's