13th Sept - Steeple Langford Beer & Cider (and Gin) Fest 
A bit self-indulgent, but when we strike it up and slip into gear and the sound is great on stage, it can raise a hair on the back of your neck whilst you play. At Steeple Langford we were 45 minutes in and still all our hairs were well on their ends. So were we knocking it out the park or was it was because it bloody freezing? Well it a bit of the first and a lot of the latter.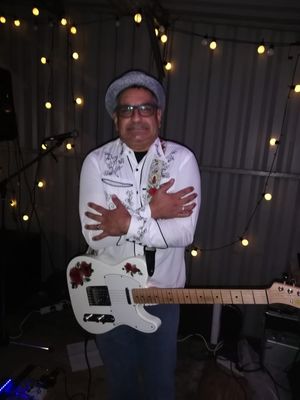 As we are slaves to rock n roll we don't carry a fine selection of woollens from C&A in a range of autumnal colours in the band van. So what do you do? You play each song faster and louder so to generate heat. 
So whilst we cracked on with it , we're glad to report the groovin' people of Steeple Langford also clicked that by clapping and dancing self-preservation was assured. 
A fine night. BIG thanks for having us at your 20th festival. 
Im also sure when they closed the door of the stage area the lights went off. Mmmmmm,