25th May - Somerset Arms, Semington
It was  our second time out at the fine Somerset Arms in Semington. We reckon it must lay along ancient ley-lines which generate doses of seriously good vibes. As is sometimes the case, their annual Cider Fest isn't competing with Glasto, but its probably more fun and we'd play here and not on the Pyramid Stage if we were given the choice. 
Guitar Todd got in the mood and bought himself a very expensive guitar stand made of of hay and Steve now has a designated stool to accommodate his one tambourine.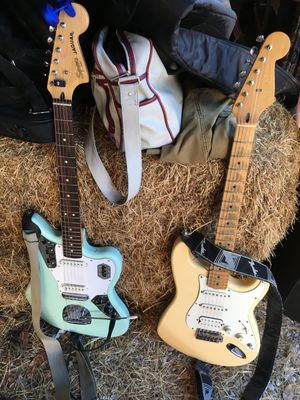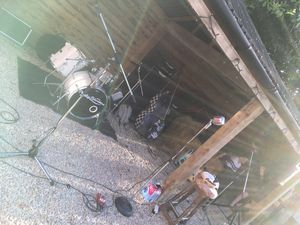 So usual Peaky Blinder nonsense done under the stars on a very fine early summer evening in Semington.  Lovely. It was. Lovely. Thanks to all who made it so much fun.   
Before we sign off; 
Who played bass for Oasis? 
Could you pick out Led Zep's bass player in a line up? 
No. Of course not. That's the lonely life of playing something with only 4 strings. Obscurity guaranteed. 
However, even with this already very low level of expectation, being asked post gig by a big geezer who was taking videos of the band just moments earlier "they're good, have you ever seen them before" did surprise our bass player somewhat. 
He was a very needy clingy child who always cried when loosing sight of mummy. So this affront triggered a strong reaction and he has now burnt his bass and starts guitar lessons tomorrow first thing.