The very fine people at Sauve deliver shots while you rock'n'roll. You then add a few other drinks along the way and then top up Simon's secret recipe Dark&Stormy cocktails, its then probably not too surprising that the Peaky Blinder juke box fires off all sorts of madness. 
Somewhere in all the madness we met the original King of the Swingers (and possibly Simon's long lost twin).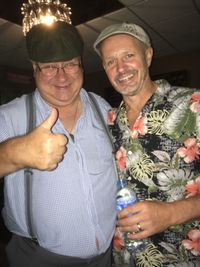 It was a crazy one.We'll be back.
By Order of the Peaky Blinders.