As we were packing down last night a chap walked over and told us that we were….. 
Remarkably below average or remarkably stupendous? We're opting for the latter.
Elvis. Presley or Costello? We do 'em all. 
Man with an impressive belt buckle but more notable for his fine dancing on tables. More please.
Amstel was drank by bass and guitar#1. Low alcohol lager by driving guitar #2. Bitter then cider by drummer. Water and cider by singer. Guitar#1 moved onto Baileys post gig. His favourite colour is pink.
Rockin and a rollin' is what we do. We chuck in all the mistakes on purpose otherwise we would be too good and would need to charge more. 
Known fact. No sentences about rock n roll start with the letter K. 
A good night had by all with all the usual dancing and singing. 
Brilliant bar staff who helped unload your car of gear as well as ensuring you never went thirsty all evening. Quite superb. Other pubs please follow this best practice.
Lisa added some glamour to the band. We need glamour. Simon get yer coat.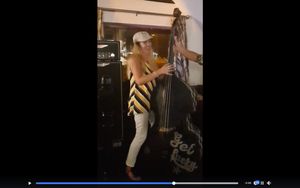 End of the list I wish I never started.
See you all again in 2020. 
The Peaky Blinders