27th April - The Longs Arm, Steeple Ashton
When we were asked to play The Longs Arms,  Steeple Ashton,  Spring Fete 2019, we thought how wonderful. 
Such a pretty village with its 15th century church and its Tuscan style market cross, we were expecting a traditional affair, with a tombola and maybe a few rounds of bingo. Singer Steve had practiced his bingo calling, legs 11, meal for two 69 and all that. But how wrong we were. 
It was a truly wild affair, and I don't mean leaving the crusts on the cucumber sandwiches or putting the milk in first when making a cup of tea.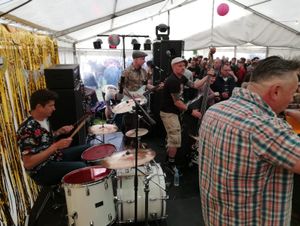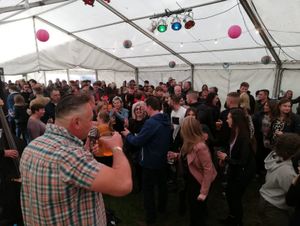 Get some very fine cider on board (in quantity) plug in, turn it up to 10 and crack on. We had a whole lot of fun. The PB style Green Day sound check ended up being the starting gun and we were off, rattling through what we do and ended up our closing anthem / singalong S.O.B. 
Generous amounts of dancing and singing along is the norm at a PB gig, but it is never ever assumed and always very very gratefully received and appreciated. It would be pointless without you. BIG love from the Peaky Blinders to the Longs Arms and the crowd for looking after us so well.