21 Sept 2019 - SAUVE
I guess you could say last night was a typical gig when the Peakies were just taking care of business. A few old songs, a few new ones (well one, Nancy's These Boots Are Made for Walking) and a few songs with mistakes in. It's what we do.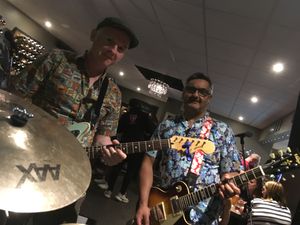 But gigs are never the same. 
We don't know where these people come from, but a lady in a lovely pair of sparking heels joined us at the mics for Walking on Sunshine. A fella who we thought would absolutely bomb did a very fine job indeed of accompanying us through Suspicious Minds and despite losing to the All Blacks that day, a chap in a South Africa shirt did some fine dancing throughout with his partner. 
However, the highlight in many ways was that friend of friend ,Jackie, who has had a tough time of late and hasn't been for a night out in quite a while, admitted  to being a big Tina Turner fan, leading to an impromptu Proud Mary. We all felt much the better for it.
Live music and live audiences at their best.  (And if you weren't with us last night, you can join the last chorus of the last song in a sing along to the vid below. The words are very easy to pick up)
We sincerely thank you all in making the effort on getting out and joining us in making the good times. 
Big Love. The PB's.