The Sports Bar at Warminster is, errrrrr, a sports bar in Warminster which does music every Saturday. It's these fine people, which despite neighbours insisting on noise level checks and curfews, carry on regardless and keep live music, errrrrr, live. The PB's SALUTE YOU.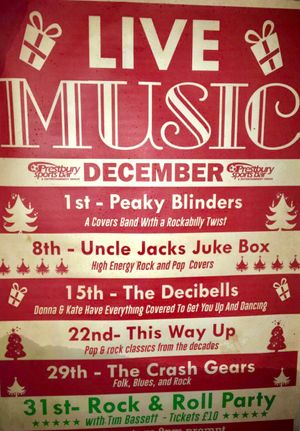 So what happened last night? Well, the band were totally cookin' but singer Steve struggles and croaks on with his nasty chest infection. But instead of us blabbing on as we have a tendency to do on these blogs, let me handover to………. 
Charles Drought, the Shakespeare of Warminster, (who also took the following photos) provided this rather insightful PB synopsis; 
A pleasure rather than a precision covers band which sits on the intersection between skiffle, the 21st century and psychobilly. 
In addition the mighty @PhotosByPaul.photography (whose excellent photos will be uploaded once he has finished applying his magic dust to last night's picture) popped onto facebook late last night and stated; 
 If you have ever wanted to know what Billy Ocean's Red Light Spells Danger sounds like done to a rockerbilly beat then you need to see Peaky Blinders Band - these guys are fantastic ?? 
Nuff said. 
Love to All. The Peaky Blinders.